Saskatchewan Mining Association, The Greater Saskatoon Chamber of Commerce, and SIMSA are hosting a breakfast for Saskatchewan Mining Week. The keynote address will be from Kelly Strong, Mosaic's Vice President of Mining - North America. Kelly will present on Mosaic's K3 project and give a potash market update.
In addition to Kelly Strong, also attending from Mosaic are:
Pat Kane – VP Operations Services, Phosphate
Jessica Theriault – Director Regulatory Affairs and Sustainability
Drew Yung – Director Operations
Rick Morrison – Mine Manager
Trevor Tucker – Mine Manager
Ron Lesko – Maintenance Manager
Chima Ajonu – Capital Project Manager
Robert Lindberg - Reliability and Mechanical Integrity Superintendent
Erin Moysey - Loadout Superintendent
Lois Buchanan-Purdy – Senior Admin Assistant
Kim Canning -
Agenda:
7:00 a.m. - registration begins
7:30 a.m. - breakfast
8:00 a.m. - keynote by Kelly Strong, Vice President, Mining - North America at Mosaic
9:00 a.m. - close
**Tickets sold individually. Tables will be rounds of 8.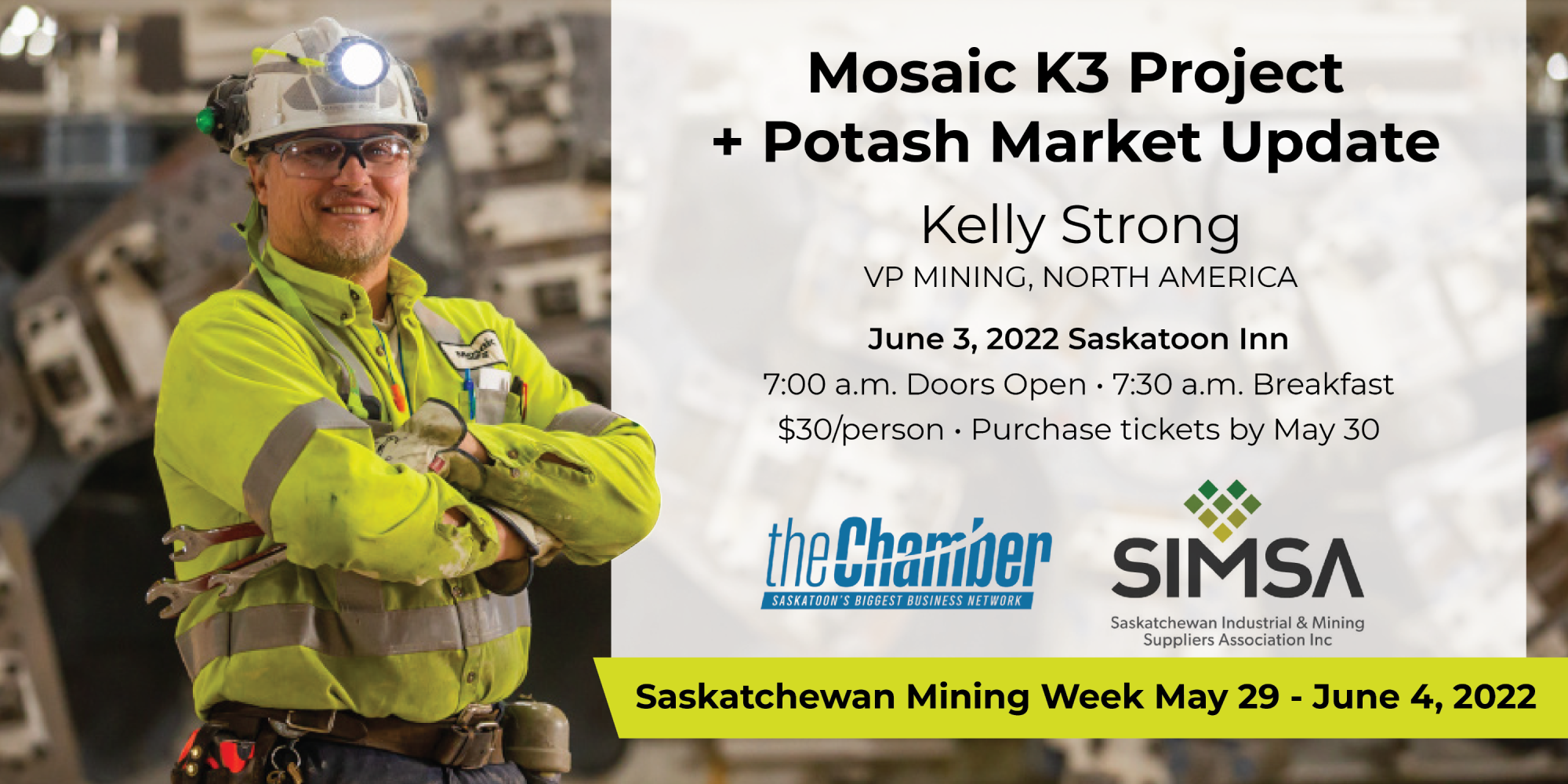 Kelly Strong is Vice President, Mining for Mosaic's North America Business. He is responsible for setting mining strategy, driving environmental, health and safety (EHS) improvements and accountability, fostering talent development and optimizing Mosaic's potash and phosphate mining operations in North America.
Kelly has more than 25 years of underground and surface mining experience – which includes working internationally in gold, nickel, copper and zinc operations. Prior to joining Mosaic, he was Vice President, U.S. Operations at Nystar, Inc, a global multi-metals group. Before joining Nystar, he worked for Vale's nickel mining and metals division for more than 10 years – starting as a Project General Foreman and holding various management and leadership positions, including Vice President of Ontario and United Kingdom Operations.
Kelly holds a Bachelor of Science in mining engineering from South Dakota School of Mines and Technology and is a registered Professional Engineer in the Province of Ontario. He serves on the Tampa Bay Area Board for United Way Suncoast and has been active on numerous other board and industry committees.